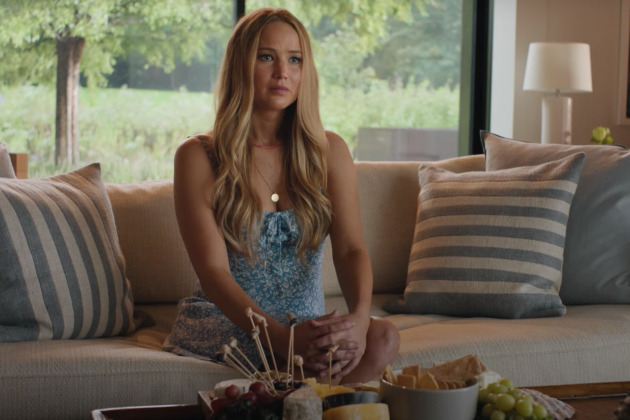 Sony has unveiled the first trailer for the upcoming comedy film "No Hard Feelings," featuring Jennifer Lawrence as Maddie, a woman who responds to an unusual Craigslist ad from two overprotective parents. The ad seeks someone to sleep with their sheltered 19-year-old son Percy before he goes to college. In the trailer, Maddie tries every last-ditch effort to fulfill the parents' questionable request, including skinny dipping, kidnapping Percy in a van, and getting pepper-sprayed in the face.
The R-rated comedy film boasts an impressive cast, including Andrew Barth Feldman as Percy, Matthew Broderick as his father, Laura Benanti as his mother, and Natalie Morales, Hasan Minhaj, Kyle Mooney, Ebon Moss-Bachrach, Scott MacArthur, among others. The film's producers include Lawrence, Alex Saks, Naomi Odenkirk, Marc Provissiero, and Justine Ciarrocchi, with John Phillips and Kerry Orent serving as executive producers.
Gene Stupnitsky directs "No Hard Feelings" from a screenplay he co-wrote with John Phillips. Previously, Stupnitsky directed the raunchy comedy "Good Boys" in 2019, a coming-of-age film starring Jacob Tremblay, and co-wrote "Bad Teacher" in 2011 and "Year One" in 2009.
Lawrence, who portrays Maddie in the film, is coming off a successful couple of years, including starring in the Apple TV+ drama "Causeway" last year and Netflix's end-of-the-world comedy "Don't Look Up" in 2021.
The R-rated comedy film "No Hard Feelings" is set to premiere in theaters on June 23. Check out the trailer below.
Read More : Heather Dubrow stands by her youngest son Ace after he comes out as transgender