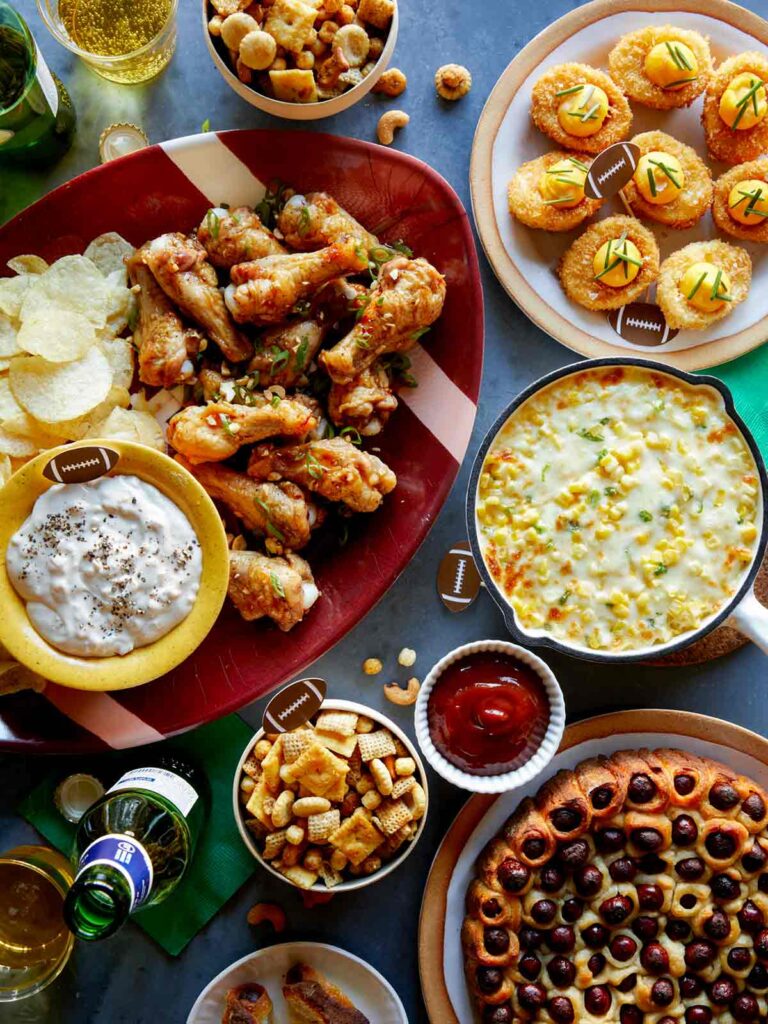 emotions from the pregame coverage to the trophy presentation. To assure you and your party guests are prepared for the day, take some time to put together your game plan for the day.
A general rule of thumb is to avoid serving food that requires your attention beyond popping it in the oven. Easy appetizers go a long way for relatively little work. A good buffalo chicken dip, a homemade guac or a cold 7-layer dip will tell your guests that you're not messin' around. Serve a chip and a dip, toss some pigs in a blanket, or put some nachos in the oven to build the foundation of your food table. As more guests arrive, the more the table will fill up (unless your friends are garbage and come empty handed).
No real football fan can survive a football game with just chips in dips and weenies in pastries, so plan on serving something with some substance. Get up early and put the crock-pot to use: a hearty chili or pulled pork for sliders still piping hot in the fourth quarter is a win for everyone involved. If you're too lazy to throw a bunch of ingredients into one vessel and hit a button, make sure your phone is working because nobody is disappointed when wings or pizzas come knocking at the door.
It's unjust to serve people such an impressive spread of mouth-delights without even a mention of appropriate beverages. With few exceptions, a Super Bowl Party is not one without a cooler or fridge filled with seemingly endless ice cold beers. If your party guests are liquor or wine drinkers, that's fine–good hosts have to know their audience. Make sure to accommodate the non-drinkers and the kids with the holy trinity of soft drinks: Coke, Sprite, and Ginger Ale. Of course, pick up a case of water and a few bags of ice before the party.
While I, personally, would be more likely to help myself to another bowl of chili, some people opt for a sweet treat like a cookie or a brownie, so if you want to go above and beyond, some goodies will go a long way.
All the games count, but the Super Bowl is the only one that matters. The Kansas City Chiefs and the Philadelphia Eagles wouldn't take the field Sunday without a game plan to execute and the necessary pieces in place, so neither should you. If you want to scramble five minutes before kickoff and just hope that you have enough to win, be my guest, enjoy hosting the least exciting party in the world. But if you want to go down in history as the conductor of the greatest Super Bowl party ever thrown, go to the grocery store, do your due diligence, prepare ahead of time and put your stars in a position where they can excel. Make the buff chick dip… slow cook the chili… do whatever necessary to win one time, and be a Super Bowl party champion for all times.